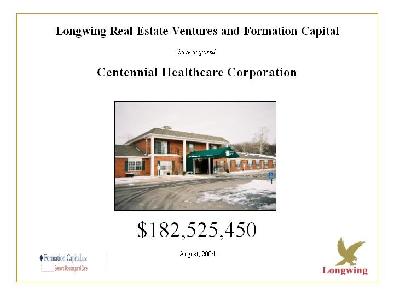 (click on the tombstone to return to strategy page)
FCSCD acquisition team announces successful closing
of Centennial Healthcare Corporation
ATLANTA
– August 31, 2004 – FCSCD Holdings, LLC ("FCSCD") announced today that they have closed on the acquisition of Centennial Healthcare Corporation and its sixty-six (66) skilled nursing facilities located in sixteen (16) states. FCSCD is comprised of Formation Capital, LLC ("Formation"),

Longwing Real Estate Ventures, LLC

, Northbrook Centennial, LLC, and Senior Care Development Company. FCSCD was formed to acquire Centennial and its portfolio of skilled nursing facilities. As a result of the closing, Centennial was able to emerge from bankruptcy. Centennial received approximately $180,000,000 as consideration for the transaction.
An affiliate of Centennial HealthCare Properties, LLC will operate the nursing homes pursuant to various agreements and lease with FCSCD. The 66 nursing homes have approximately 7,400 licensed beds. Formation's Chief Executive Officer, Arnold Whitman, commented "This transaction affords us the opportunity to materially increase our ownership of skilled nursing facilities and further to enable a very fine company, Centennial, to emerge from bankruptcy."
Formation is headquartered in Atlanta, GA, is an owner of senior housing properties, and owns and leases approximately 150 skilled nursing facilities and continuing care retirement communities across the country. Longwing Real Estate Ventures, LLC, is a New York private investment company, and Northbrook Centennial, LLC, is an affiliate of the Diamond Group, a Chicago-based private investment firm.
For Longwing, it represents their third investment as lead investor in skilled nursing facilities with Formation. In total, Longwing now controls 96 skilled nursing facilities in 17 states, totaling 11,325 beds

Exceptional People, Strategies and Investments, Without Exception