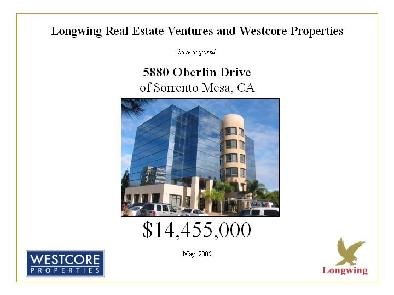 (click on tombstone to return to strategy page)
Westcore Properties and Longwing Real Estate Ventures, LLC
ACQUIRE six-story OFFICE building in SAN DIEGO, CA FOR $12.4 MILLION
SAN DIEGO, CALIF., June 6, 2005 – An affiliate of Westcore Properties, LLC, an entrepreneurial real estate investment company headquartered in San Diego, and Longwing Real Estate Ventures, a member of the Dubai Investment Group, have acquired Mira Oberlin Plaza, a six-story office building totaling 72,000 square feet, for $12.4 million. The seller was Ascension I, L.P. The property is located at 5880 Oberlin Dr. on the southwest corner of Mira Mesa Blvd. and Oberlin Dr. in the Sorrento Mesa submarket of San Diego near the 805 Freeway. Westcore represented the partnership in the transaction, Brent Bohlken of GVA IPC represented the seller.
"The real estate market in Sorrento Mesa has been particularly appealing to us from an investment standpoint," said Gary Katz, Westcore's director of acquisitions for Southern California. "The technology sector is growing quickly there, which has increased the tenant demand. Additionally, Sorrento Mesa's location between University Town Center and Del Mar provides convenient freeway access as well as close proximity to executive housing." Katz added that Westcore was attracted to Mira Oberlin Plaza due to its high visibility location, attractive stone and glass façade and strong investment upside due to below market rents.
Built in 1990, the property is 97 percent leased to tenants including Advanced Marketing Services and Oberlin Deli. The remaining 2,500-square-foot space is available for lease through Jeb Bakke and Scott Kincaid of CB Richard Ellis.
Westcore Properties will look to acquire about $100 million of property in the San Diego market this year and plans to spend at least $500 million in key areas throughout California and other western states. Now, not even halfway through 2005, the company has purchased $140 million in property and is negotiating for another $110 million in commercial real estate. At this pace, the original goal may be soon surpassed as Westcore has been actively seeking out large real estate portfolios in addition to its individual property acquisition strategy.
property description below
Sorrento Mesa, located approximately 15 miles north of the San Diego CBD, is accessible from all points within San Diego County. Interstates 805, 5 and 15 serve this submarket: I-805 converges with I-5 just north of Sorrento Mesa and I-15 is accessible from Mira Mesa boulevard, which borders the site to the North. The submarket is located adjacent to the residential communities of Del Mar, La Jolla and Rancho Santa Fe and the Torrey Pines and the Sorrento Valley. Sorrento Mesa's accessibility and proximity to intellectual capital and a highly educated work force makes it a highly desirable location for an array of businesses. Several prestigious firms have relocated their corporate headquarters or house significant portions of their operations in the submarket. Some of the notable firms are: AT&T, Canon, Mail Boxes Etc., Minolta, Motorola Qualcomm, Sony, T-Mobile and Texas Instruments.


5880 Oberlin Drive
("The Property") consists of a six-story, class B office building and an adjacent two-story parking garage located in the San Diego submarket of Sorrento Mesa. The office building encompasses approximately 72,000 square feet (SF) of total leasable space. The Property, situated on approximately 1.75 acres, was constructed in 1990. The property is strategically located in the submarket, immediately adjacent to Mira Mesa Blvd, approximately 1 mile from the primary thoroughfare, I-805, and within close proximity to the Qualcomm corporate headquarters.

Exceptional People, Strategies and Investments, Without Exception