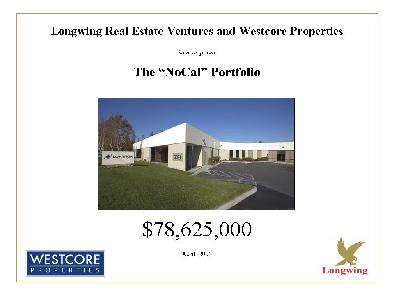 (click on tombstone to return to strategy page)
Westcore Properties, LLC and Longwing acquire R&D, Industrial and office portfolio in northern California for $78.62 MILLION

The 23-Building portfolio Totals 613,358 Square Feet in the Cities of San Jose, Santa Clara, Sunnyvale and Fremont

SAN FRANCISCO, CALIF., April 18, 2005 – The San Francisco office of Westcore Properties, LLC, an entrepreneurial real estate investment company and its partner in the transaction, Longwing Real Estate Ventures, LLC,

a member of the Dubai Investment Group

, have acquired a 23-building, 613,358-square-foot R&D, light industrial and office portfolio for $78,625,000. The portfolio, which is 90 percent occupied, consists of eight individual properties in the cities of San Jose, Santa Clara, Sunnyvale and Fremont. These properties are ideally located in or adjacent to the famed "Golden Triangle" of the Silicon Valley that is formed by the 880, 237, 101 freeways.
Mark Ziemendorf of Cornish and Carey represented Westcore Properties as well as the undisclosed San Jose, Calif.-based seller.
"Westcore Properties was attracted to this portfolio because of its small buildings and tenant spaces that make it uniquely positioned to capitalize on the demand we have identified in the Silicon Valley for small tenant lease and sale activity," said Neil Johnson, director of acquisitions, Northern California for Westcore Properties. "This small tenant activity is typical of a recovering market as new businesses are created and existing users undertake gradual expansion. Additionally, the high per square foot cost to develop smaller buildings and tenant spaces will continue to limit new development."
Johnson added that 20 percent of the overall vacancy in the submarket is made up of spaces smaller than 30,000 square feet, however, approximately 50 percent of the absorption in 2004 occurred in the less than 30,000-square-foot size segment (approximately 700 transactions), illustrating that this is where most of the activity in the market is occurring.
Following is the list of properties in the portfolio

1.
2121 – 2125 Zanker Rd.
, San Jose
– A two-building, 53,900-square-foot R&D property

2. 1914 – 1968 Junction Ave. and 1911 – 1943 Hartog Dr., San Jose – A two-building, 119,208-square-foot light industrial property

3. 1277 Orleans Drive
and 1308 Borregas Ave., Sunnyvale – A one-building, 42,624-square-foot R&D property

4. 207 Java Drive
, Sunnyvale
– A one-building, 34,400-square-foot R&D property

5. 48501 – 48531 Warm Springs Blvd.
, Fremont
– A four-building, 146,592-square-foot R&D property

6. 3033 Scott Blvd.
, Santa Clara
– A one-building, 32,589-square-foot R&D property

7. 2202 – 2262 N.
First Street, San Jose– A nine-building, 44,563-square-foot office property

8. 890 – 894 Ross Drive
/ Hwy 237, Sunnyvale – A three-building, 139,482-square-foot R&D property

"Westcore Properties has been very aggressive with its investment in the Northern California market and will continue to seek portfolio as well as core, core-plus and opportunistic opportunities in that area in addition to other key markets in California and the western United States," said Marc Brutten, president and CEO of Westcore Properties.
Late last year, Westcore Properties, which is headquartered in San Diego, Calif. with an office in Los Angeles, opened the San Francisco office in response to an improving real estate market in the Northern California region. Shortly after that, the company announced it had acquired Vasona Technology Park, a seven-building office / R & D park totaling 307,000 square feet for $52.8 million in Campbell, Calif.
Since January 2005, Westcore Properties has acquired approximately $100 million of properties including this latest transaction. The company's investment plans for this year are aimed at $500 million in industrial, retail and office properties in California and the western United States.

Exceptional People, Strategies and Investments, Without Exception